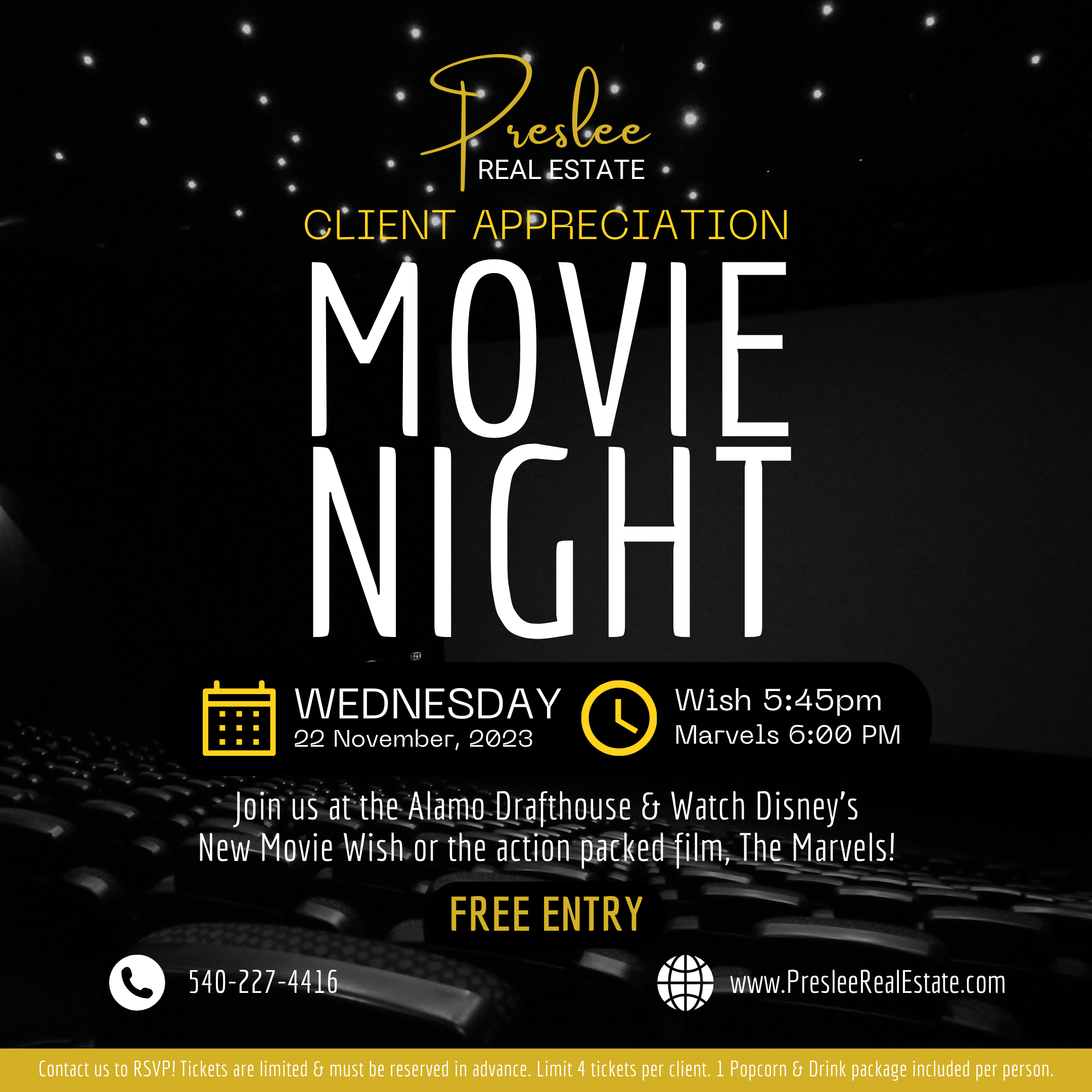 Preslee Real Estate Invites you to a night at the movies!
At Preslee Real Estate, we believe in more than just buying and selling properties; we believe in building lasting relationships with our clients. To show our sincere appreciation for your trust and loyalty, we invite you to join us for an unforgettable movie night at the Alamo Drafthouse!
Location: Alamo Drafthouse | 181 Kernstown Commons Blvd, Winchester, VA 2260
Date: Wednesday, November 22nd, 2023
We've reserved two exclusive theaters for our clients and up to four of your guests. One theater will premiere Disney's newest movie, "Wish," and the other will feature the thrilling "The Marvels." As a special treat, a Popcorn and Drink Package will be included for each person attending!
To secure your spots and pick your preferred seats, please follow the links below. This is a first-come, first-reserved event, so don't delay in reserving your seats!
We can't wait to spend this enjoyable evening with you, your family, and friends. It's our small way of saying "Thank you" for being a valued part of the Preslee Real Estate family.
Please let us know if you have any questions or require further assistance. Feel free to reach out to us directly at 540-227-4416.
We look forward to celebrating with you at the movies! Please arrive at least 30 minutes early to make the most of your evening!
To reserve your seats, simply click on the button of the movie you'd like to see below! You will be redirected to the Alamo's website to pick your seats. You will be required to enter your information to reserve your spots but this event is completely free! Once you submit your confirmation and tickets will be sent to directly to your email from the Alamo!
Reserve Your Tickets Below!
Please limit 4 tickets per client to ensure everyone has an opportunity to enjoy the movies!
Disney's Wish - Theatre 3
Wednesday, November 22, 2023
Alamo Drafthouse
Movie Starts at 5:45pm
Please arrive early!
Reserve Your Seats Here
The Marvels - Theatre 6
Wednesday, November 22, 2023
Alamo Drafthouse
Movie Starts at 6:00pm
Please arrive early!
Reserve Your Seats Here
Tickets are limited & must be reserved in advance. Limit 4 tickets per client. 1 Popcorn & Drink package included per person.