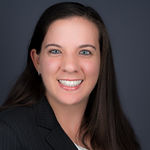 Christine Jones
Transaction Coordinator
About Christine
Christine is a Licensed Transaction Coordinator and hold Real Estate licenses in both Maryland and Virginia. She enjoys "being in the background" helping people accomplish their goals. How? Checklists. Christine says, "As silly as it is, I love checklists." She is proud of the systems she creates and maintains.
Christine obtained a Bachelor of Art in Dance from Mercyhurst University and a dual Master of Science in Management in Organizational Leadership and Marketing from Wilmington University. She has worked in various realms of customer service including sales, front desk staff, and customer service associate.
In addition to working as a transaction coordinator, she serves a dual role of Board President and Division Director for Tech Services at Katsucon Entertainment Inc and can be spotted away from her TC duties once a year at Katsucon, a Japanese anime convention in National Harbor, MD. Christine's ultimate goal is to be a great mom to her daughter and son, a great wife to her husband, Ian, and pet-mom to her cats, Evee and Remi. She also enjoys reading, video games, crime shows and the rare appearance in the dance studio that she hopes will become more frequent soon.