🏡✨ Downsizing Dreams? 5 Steps to Your Cozy New Chapter! 🍂🏠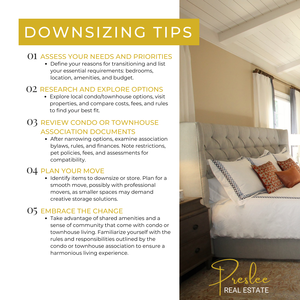 Considering a shift to condo or townhouse living? Let's make it a breeze with these essential steps:
1. Assess Needs & Priorities:
Start by asking yourself why you're considering downsizing. Is it to reduce maintenance, simplify your lifestyle, or save money? Make a list of your must-haves, such as the number of bedrooms, location preferences, desired amenities, and your budget. This will help you narrow down your options and focus on what's most important to you.
2. Research & Explore:
Dive into local options and explore different condominiums or townhouses in the area. Visit properties, attend open houses, and take virtual tours to get a feel for the different communities. Compare costs, fees, and rules to ensure they align with your financial goals and lifestyle. Consider factors such as proximity to amenities, transportation, and the overall atmosphere of the neighborhood.
3. Association Check:
Once you've narrowed down your choices, it's crucial to dig deeper into the associations governing these properties. Review the bylaws, rules, and regulations to understand what it would be like to live in each community. Pay attention to pet policies, parking regulations, and any restrictions that may affect your lifestyle. Additionally, examine the financial health of the association by reviewing their budgets, reserves, and any pending assessments.
4. Plan the Move:
Downsizing often means letting go of some belongings. Take stock of what you want to keep, what you can sell or donate, and what needs to be stored. Consider hiring professionals who specialize in downsizing to help you with the process. They can offer creative storage solutions and assist with organizing your new space efficiently. By planning ahead, you can ensure a smooth and stress-free move.
5. Embrace Change:
As you settle into your new home, embrace the benefits of condo or townhouse living. Enjoy shared amenities such as fitness centers, pools, or community spaces. Participate in social activities and get to know your neighbors. Familiarize yourself with the association rules to ensure a harmonious living experience for everyone. Remember, downsizing is an opportunity to simplify your life and create new connections within a close-knit community.
Ready for your downsizing adventure? Let's chat! 📞🏡 Our team of real estate professionals can provide guidance, answer your questions, and help you find the perfect cozy space for your new chapter.