There are many kinds of towns, all across America – quaint towns, convenient towns, picturesque towns, friendly towns … the list goes on and on. Some towns, however, have something special – something that gives them their own personality, not easily forgotten. Strasburg, VA is that kind of town. 'Special' happens when people really care about the way their town looks and feels and also care about their neighbors and local business partners on a very real and human level. Truly special towns are full of people who are willing to work hard and join together to make sure that everyone they meet experiences the best the community has to give. Only in a town like Strasburg could a tradition of family fun like Mayfest take root and become a time-honored part of the fabric of the community! (continued below)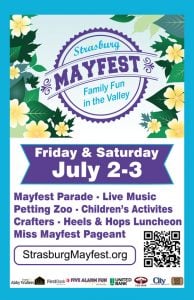 Mayfest, first sponsored by the Strasburg Chamber of Commerce more than two decades ago and more recently sponsored by the Strasburg Business Alliance of the Shenandoah County Chamber of Commerce, is a weekend dedicated to all the best our special town has to offer. Couldn't we all use a healthy dose of joy and community right now, after struggling through the pandemic for more than a year? Mayfest is a perfect chance to rekindle your sense of fun. This year's Mayfest has had to be moved from mid-May to Independence Day weekend to make the fun as safe as possible for all who attend but, given the lineup of activities and attractions, it will be more than worth the wait. Whether you are a local or just passing through, make plans to see for yourself all of the wonders that Mayfest has to offer.
Music lovers will be delighted by a wide range of styles and sounds: Cazhmiere, with their unique, high- energy blend of Top-40/Hip-hop/Modern Rock; The Virginians, local favorites playing 80s/90s Country and Classic Rock; and future superstar and Shenandoah Valley favorite Ryan Jewel, with his own brand of "Country done right." Check out the musical lineup and all of the other wonderful Mayfest activities and attractions online at http://www.shenandoahcountychamber.com/Strasburg-Mayfest#Events.
At Mayfest, you'll find a marvelous, admission-free sampling of locally made crafts, artisans, festival food and drink, hometown business booths, the Miss Mayfest pageant, the annual Mayfest Parade (a community favorite), a petting zoo, and even a duck race – all family-friendly and easy to access! There is also a beer and wine garden for over-21 patrons, and a Five Alarm Kids' Fun Zone (wrist band required – may be purchased on site for a nominal fee).  Mayfest means fun and friendliness around every corner, all through the heart of Strasburg.
As this year's Mayfest Chair and owner of Preslee Real Estate, a growing local business investing every day in our community, I know firsthand what makes Strasburg and Mayfest so special. Strasburg is my hometown! I live in Strasburg, work in Strasburg, I'm raising my family here and, like Mayfest and the community it serves, I wear my love for Strasburg on my sleeve. Strasburg Business Alliance members and other community volunteers have put in countless hours preparing for Mayfest. Serving as Mayfest Chair is just one way that I give back to this town we all love so much. It is ALL about the PEOPLE we meet, the friends we HELP and the community we SERVE. Why not come to Mayfest and see for yourself? You may never want to leave!