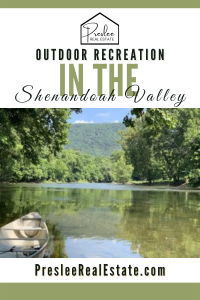 People are venturing into the world again in search of recreation and a sense of returning to life as we know it. What better way could there be to restore our well-being than to put ourselves out in nature and start moving again? The Shenandoah Valley offers countless opportunities for appreciating and engaging with nature for people of all ages and at every level of experience, from looking-out-the-window-as-we-drive-by types to expert hikers, rock climbers, canoers, kayakers, bicyclists, and runners. There are so many amazing outdoor recreation opportunities in the Shenandoah Valley!
National Parks in the Shenandoah Valley
For beginners and no-to-low calorie burners, nothing can beat a scenic drive and a picnic lunch or sunset dinner, surrounded by natural splendor. The Shenandoah National Park offers 105 miles of unparalleled mountain views along the Skyline Drive, with numerous picnic and camping facilities and more than 500 miles of trail (including a segment of the world-famous Appalachian Trail). The northern entrance to Skyline Drive is an easy drive from Washington, DC – just a little over an hour away in Front Royal, Virginia. One of the Valley's best-kept secrets, Raymond R. 'Andy' Guest State Park, covers more than 1600 acres along the Shenandoah River in nearby Bentonville, off Route 340 between Front Royal and Luray. Opportunities abound there, too, for all the outdoor activities we love.
Shenandoah National Park & George Washington National Forest
The Shenandoah National Park offers hiking trails from beginner to advanced levels, and there are many trails outside the park which offer stunning views and solid aerobic results. The Signal Knob trail, accessible via the Fort Valley Road in the George Washington National Forest, is a perfect day hiking trail with a medium degree of difficulty, and the view from Signal Knob makes the hike more than worthwhile.
Wine & Beer in the Shenandoah Valley
If you would prefer to take in the Shenandoah Valley vistas while sampling some of the Valley's excellent wines and beers, a marvelous array awaits your leisure. Closest to the Washington, DC area is Naked Mountain Winery in Markham (exit 18 off of I-66) where mellow blends from the second-oldest grapevines in Virginia (age of the vines is a plus for the quality of the wine) are available for sampling on an enormous shaded deck with panoramic views and live music on weekends from some of the area's most popular musicians.
Wine
Star in the Valley Winery in Strasburg (weekends only) offers delicious wines and an "our-home-is-your-home" atmosphere, surrounded by gorgeous mountain views. In nearby Woodstock, the county seat of Shenandoah County, Muse Vineyards is a lovely spot to contemplate the natural beauty of the area while sipping the fruit of the vine. There are more than two dozen quality Shenandoah Valley wineries in close proximity to one another. You may want to come back several times! If you would like to visit several wineries but worry about tasting and driving, a friendly shuttle service is available – just call Shenandoah Wine Tours in Edinburg for a hassle-free day of tasting.
Beer
Craft beer aficionados will be delighted with what the Shenandoah Valley has to offer as well. The Box Office Brewery at 177 East King Street in Strasburg would be a great place to start. The Box Office Brewery has nearly 20 varieties of beer and cider on tap and offers flight tasting and growlers and cans to go. They also offer live music on weekends and a host of ever-changing and always interesting community gatherings and events. Further south, in Woodstock, check out the Woodstock Brewhouse, one block off Rte. 11 at 123 Court Street. The Shenandoah Beerwerks Trail features a host of local craft beer sites as well as a handy link to outdoor activities along the trail.
The Woodstock Tower
Another spectacular Shenandoah Valley day hike is the Woodstock Tower, built-in 1935 by the CCC. Here, one can view seven bends of the Shenandoah River and see hawks and falcons riding the air currents and diving for prey. The Tower is just a short hike off SR755. While you are in Woodstock, don't miss the historic Edinburg Mill, built in 1848, and used as a working mill until 1978, when it was converted to its current purpose as a restaurant serving some of the Valley's most delicious food. One more short jaunt down Rte. 11 to Newmarket will bring you to the Meems Bottom covered Bridge – the longest covered bridge in Virginia (at 204 feet) and the last that supports regular vehicular traffic. While there, you are not far from Big Schloss at Wolf Gap – one of the Shenandoah's Valley's loftiest (2,963 feet) and most beloved hiking trails.
Water Adventures
If you are searching for water adventures, the new Seven Bends State Park in Woodstock offers convenient access to the North Fork of the Shenandoah River. The nearby town of Front Royal was christened the Canoe Capital of Virginia in 1999 and takes great pride in living up to its name. There are 20 public access points along the south fork of the Shenandoah River for canoers and kayakers alike, as well as several outfitters offering a guided experience. Skyline Canoe Company, Front Royal Outdoors, and the Shenandoah River Outfitters are three of the most popular companies offering river excursions. If canoeing and kayaking are a bit too adventurous for you, think about an afternoon of tubing down the river. These friendly companies will help you out there, as well.
Caverns
The Shenandoah Valley's beauty isn't just to be found above ground, either – there is a whole world of wonder available beneath the surface! The Shenandoah Valley is home to numerous world-renowned caves and caverns. Skyline Caverns in Front Royal, Shenandoah Caverns in Quicksburg, Luray Caverns in Luray, and Grand Caverns in Grottoes, VA are all within an easy drive. On a hot summer day, the temperature in the caverns is always 54 degrees!
Move to the Shenandoah Valley
There is an old saying: "If you wear out a pair of shoes in the Shenandoah Valley, you'll never leave."
Many people these days are finding that to be true! If you find yourself among the many who head to the Shenandoah Valley again and again for recreation and an escape from the pressures of urban living, perhaps you should consider making your home or purchasing a second home here.
Median home prices and the cost of living are still low here. Home values are increasing year after year. There will never be a better time to make the Shenandoah Valley your full-time or summer address.
Just think about having all of the Shenandoah Valley's natural beauty and outdoor recreation right in your own backyard!
Preslee Real Estate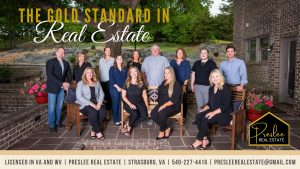 Preslee Real Estate is always ready to help make your Shenandoah dream come true.
Preslee Real Estate represents the gold standard in Real Estate in the Shenandoah Valley. With a team of highly trained agents offering a combined experience of over 30 years, an outstanding specialized admin team to make sure everything goes according to plan, rock-solid organizational skills, quick response, effortless use of technology, an unparalleled work ethic, keen listening skills, and first-rate communication, we will do whatever it takes to help make your Shenandoah Valley Real Estate dream a reality.
Visit our website or call us today at (540) 227–4416 to find out how you can stop wishing and start living the life you have dreamed of!